Berlin INTO fashion week 2018 "Colours for Green"
Berlin Alternative fashion week March 2016
Senken newspaper (Japan 2016)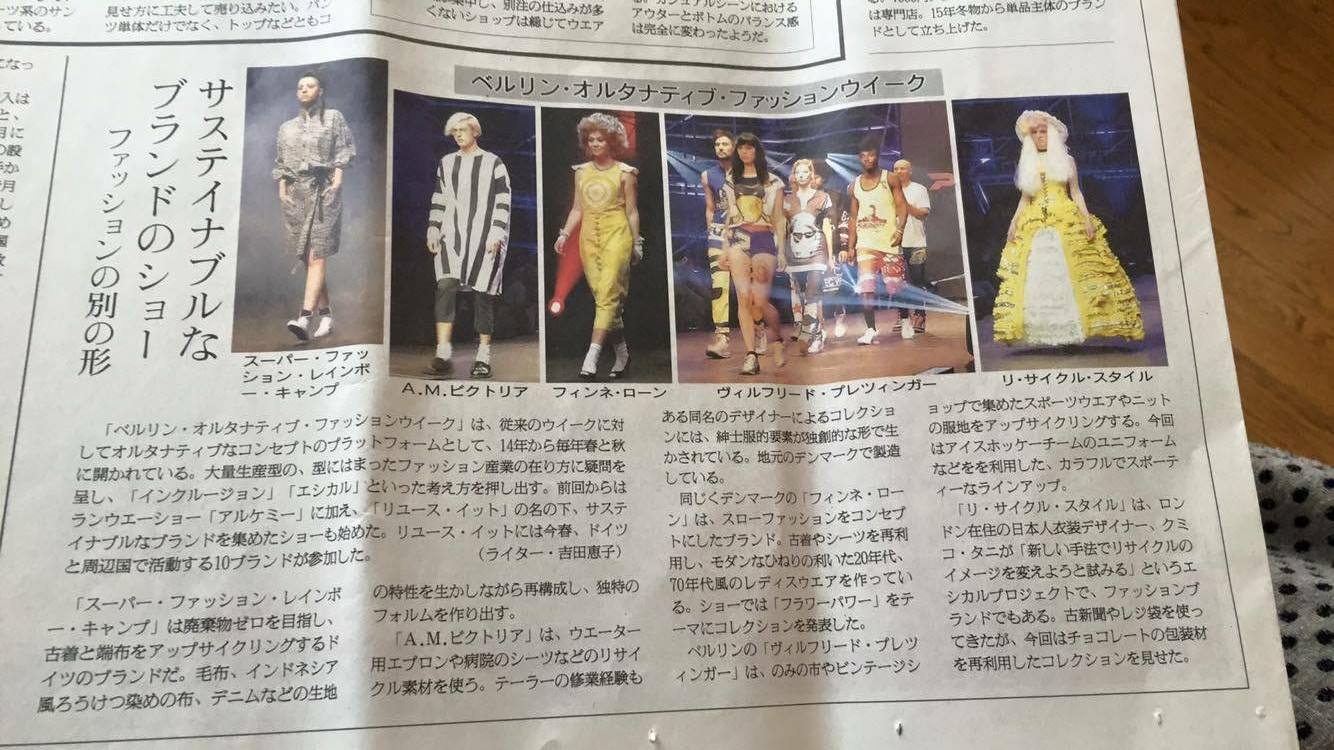 BEST OF Berlin Alternative Fashion Week March 2016
Fragments Magazine – One Month Trip – December 2015
Beauty & Ruin Magazine – Brighton Fashion Week October 2015
Brighton Fashion Week 2015, now 10 years old, was most notable this year for it's endorsement of a movement yet to fully take off in the UK, 'sustainable fashion'. So vehement was their determination to promote the ideology of the cause it encompassed the theme throughout the entire week. Liz Bishop, founder of the event, invited guest speakers to talk about the state of the fashion industry and what we as individuals can do to play our part moving forward. [read more]
Berlin Alternative Fashion Week Sep 2015 – "Recycle collection" – Air Berlin Magazine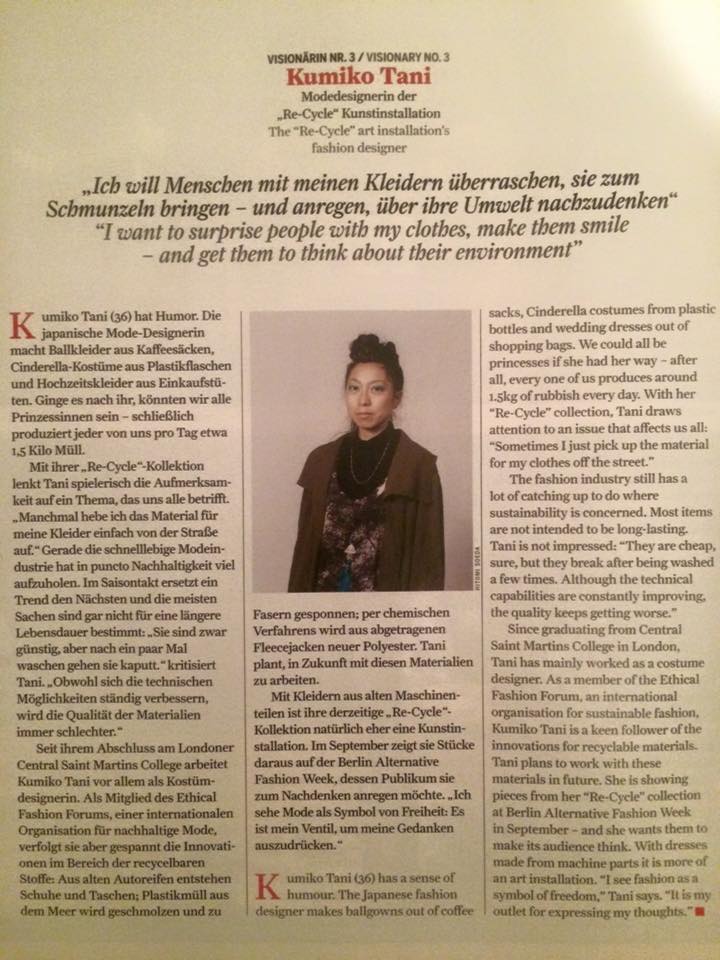 Berlin Alternative Fashion Week Sept. 2015
Re-Cycle-Style @ BAFW 2015 – Ist das Kunst oder kann das weg?
Wer hätte gedacht, dass Müll so elegant sein kann?! Re-Cycle-Style auf der Berlin Alternative Fashion Week 2015 zaubert, wie der Name schon sagt, aus alten Materialien neue Kleidungsstücke. Und die entlocken einem auf jeden Fall das ein oder andere 'Oh' und 'Ah'. Als das dimmende Licht die nächste Show ankündigt, erklingen melodische Töne. Das erste Model tänzelt elfengleich über den Laufsteg und beamt das Publikum wie in eine andere Welt – vielleicht eine nachhaltigere. Denn genau das ist bei Re-Cycle-Style kaum zu verkennen – die Nachhaltigkeit steht im Vordergrund. [read more]
Highlights from Berlin Alternative Fashion Week 2015
The 3rd edition of the Berlin Alternative Fashion Week (BAFW) 2015 took place from September 23 to 27 and Lola Who got front row seats! The BAFW is an alternative concept far away from the labels that normally determine the catwalks. The fashion shows are a platform for young and innovative designers from all over the world to showcase different, exciting and sustainable fashion. The main show "Alchemy" included a real explosion of individual fashion, coulours, art and music. [read more]
Aus Müll Gold machen: Recycling-Designerin Kumiko Tani
Letzte Woche gab es einen Artikel auf Two for Fashion, bei dem ich dachte: Halt! Stop! Der gehört doch aufs re:BLOG! Frank von iheartberlin war auf der Alternative Fashion Week in Berlin unterwegs. Ein Leitmotto der Berlin Alternative Fashion Week ist Inklusivität statt Exklusivität. Bedeutet: Jedermann ist willkommen und hat die Möglichkeit, neue Designer, Künstler und Gleichgesinnte kennenzulernen. Zu entdecken gibt es Stylings, die allesamt eine umweltfreundliche Materialverarbeitung als Hintergrund haben. [read more]
Backstage at Berlin Alternative Fashion Week – Part 2
Last weekend the Berlin Alternative Fashion Week took place in Berlin for the third time. Here is our second part of Sebastian Pollin´s backstage review for KALTBLUT. [read more]
BEST OF Berlin Alternative Fashion Week Sep. 2015
Ethical Fashion College Fashion Show in Japan 2015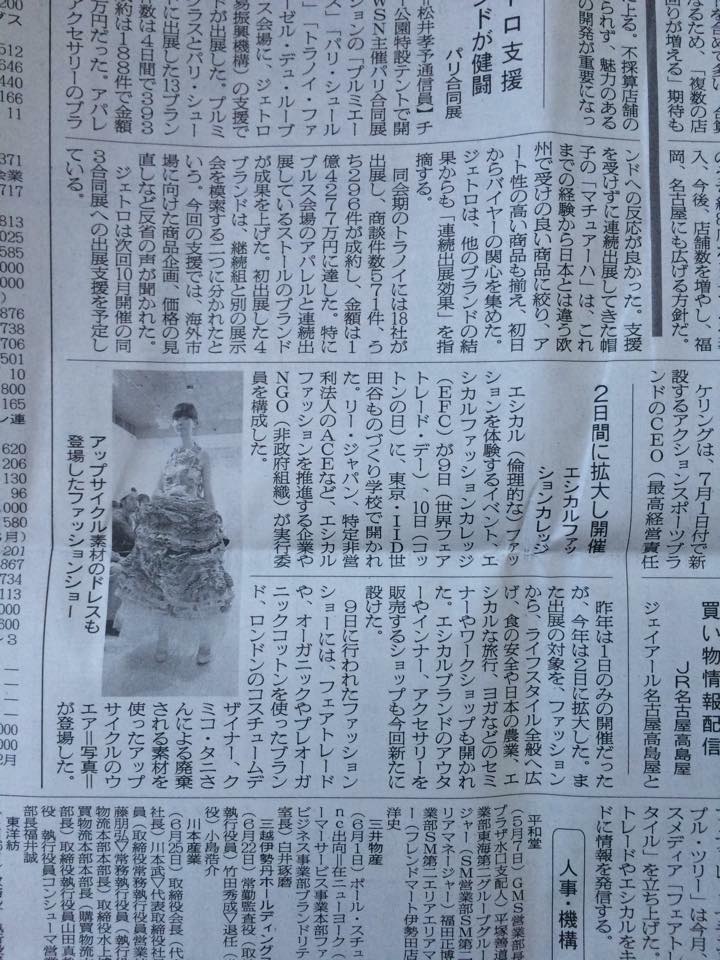 Ethical Fashion College
Report no.3 / Ethical Fashion Japan × People Tree エシカルファッションショー:Be the Change
Brighton Fashion Week Sustain Catwalk Show Oct 2014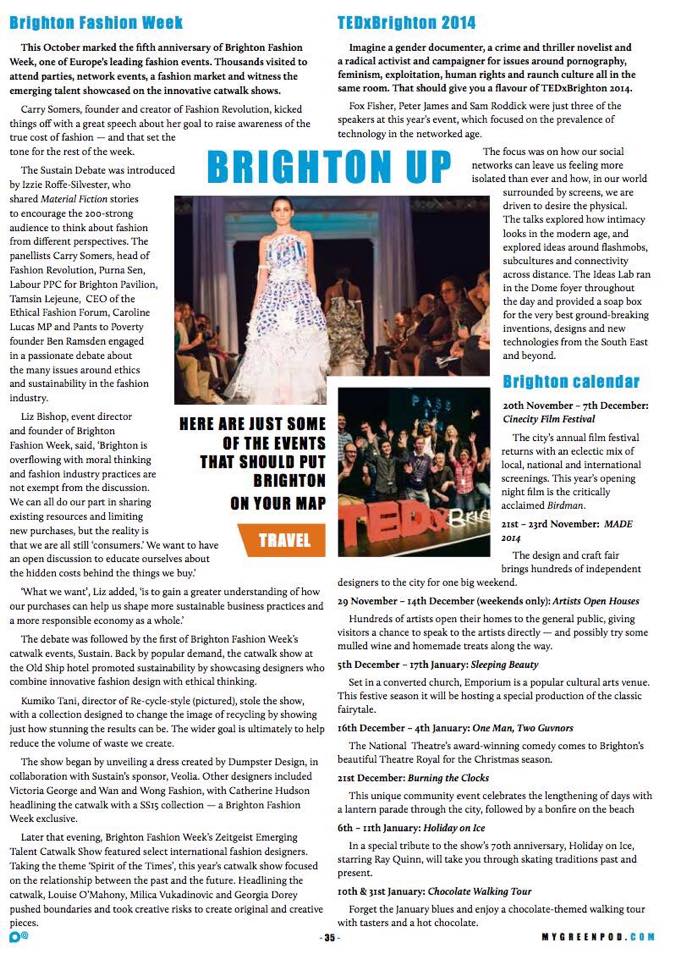 Designers KUMIKO TANI Brighton Fashion Week 2014 94379 NMNB
Noctis Magazine: Interview with Kumiko Tani
Kumiko Tani's 'Re-Cycle-Style' collection is a strong testament to the designers position as a leader in innovative and sustainable fashion. Running with the concept of recyclable fashion, Kumiko has an innate ability to transform even the most mundane materials such as plastic bottles and everyday shopping bags into sustainable couture garments.
Noctis went backstage before the Sustain show at Brighton Fashion Week to talk to the designer about her inspirations and how her designs take shape from the initial collection of recyclable materials, which form the backbone and fundamental element to her ethical brand. [read more]
Exhibition at Hundred years Gallery (UK 2014)
Japan update weekly newspaper (UK 2014) [Download pdf]
Exhibition at Hundred years Gallery (UK 2014)
Re-Cycle-Style closing event and catwalk show, Sunday 25th of May [See listing]
Re Cycle Style catwalk show at Hundred Years Gallery
Re Cycle Style performance at Hundred Years Gallery
Archie and the Rug: Paper Roses – guest post
Sometimes the simplest things are the best- when it comes to decorating or dressing up, I still swear by good, old-fashioned paper. It's cheap as chips, easy to source and fairly simple to work with. There's inspiration everywhere- with department stores often resorting to the white stuff and its sturdier cousin cardboard to create elaborate window displays and installations, whilst even couture house Chanel used paper to craft headdresses for their 2009 Spring/Summer show. [Read full article]
Web magazine (Fashion156.UK London 2013)
Web magazine (Fashion156.UK London 2013)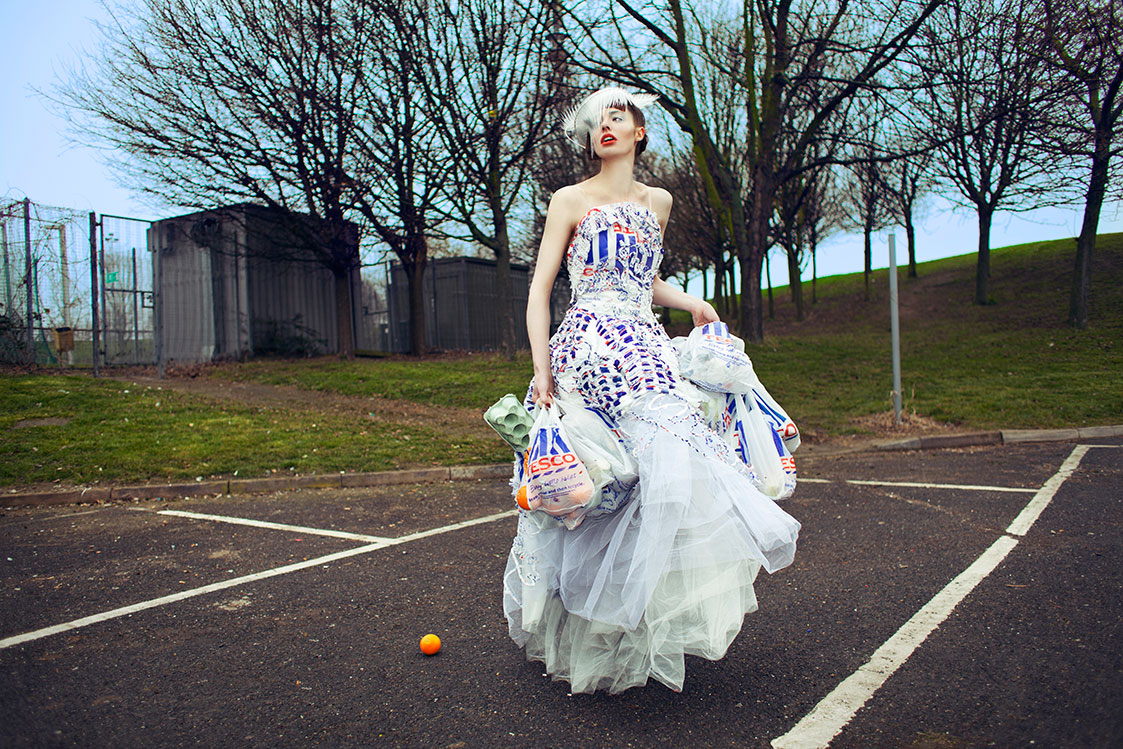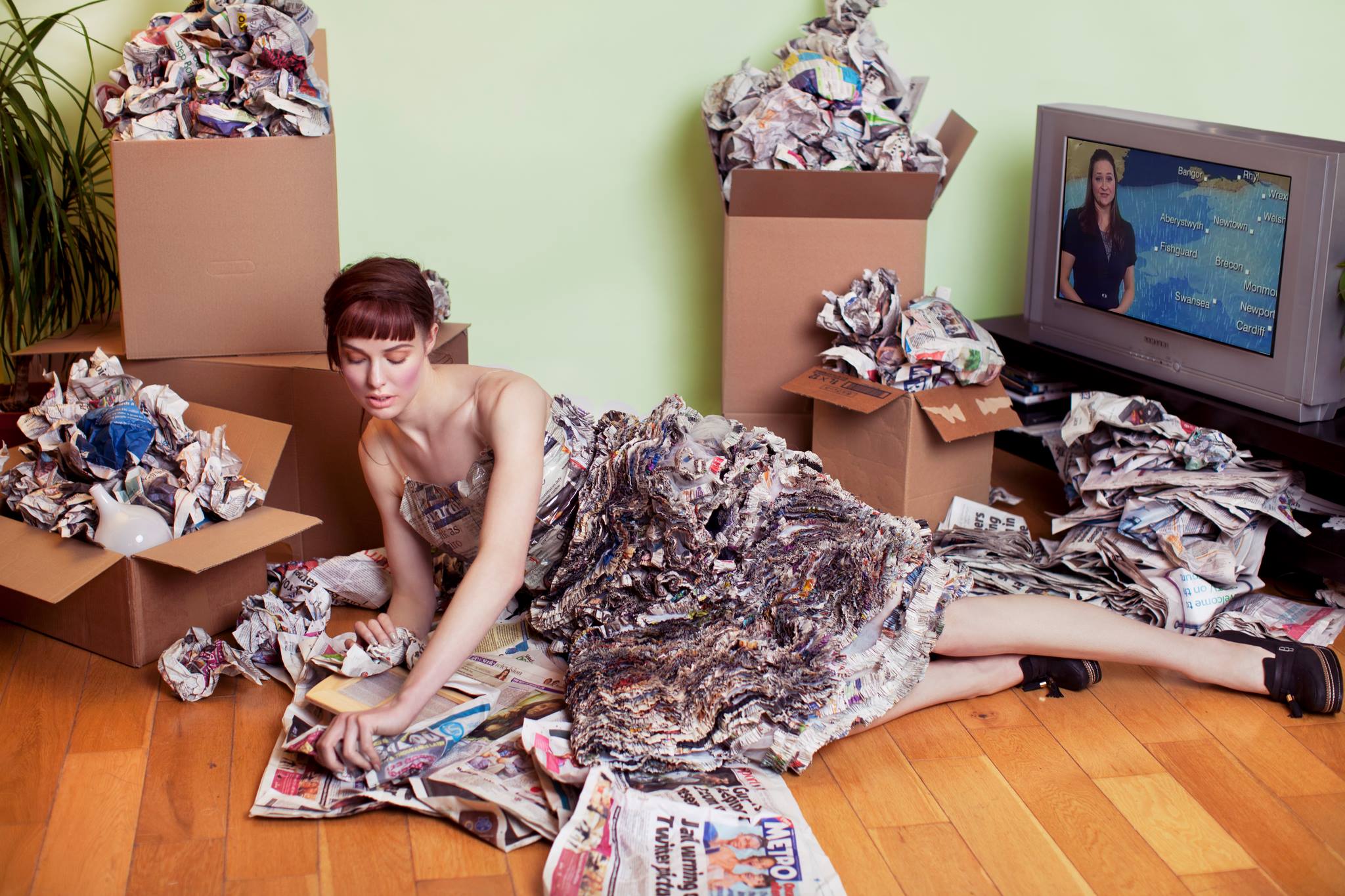 Fudge Magazine (Japan 2011) Untitled Magazine (UK. Japan 2010)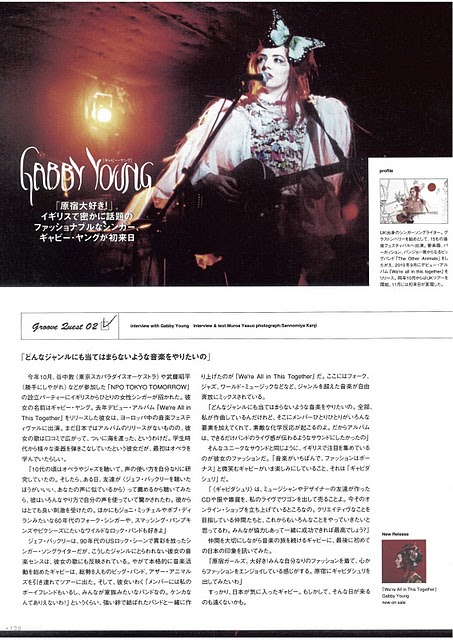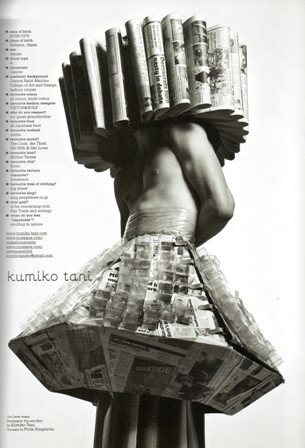 Dazed and Confused Magazine (UK 2010) Web magazine (Fashion156.UK London.2008)